BENEFIT@HOME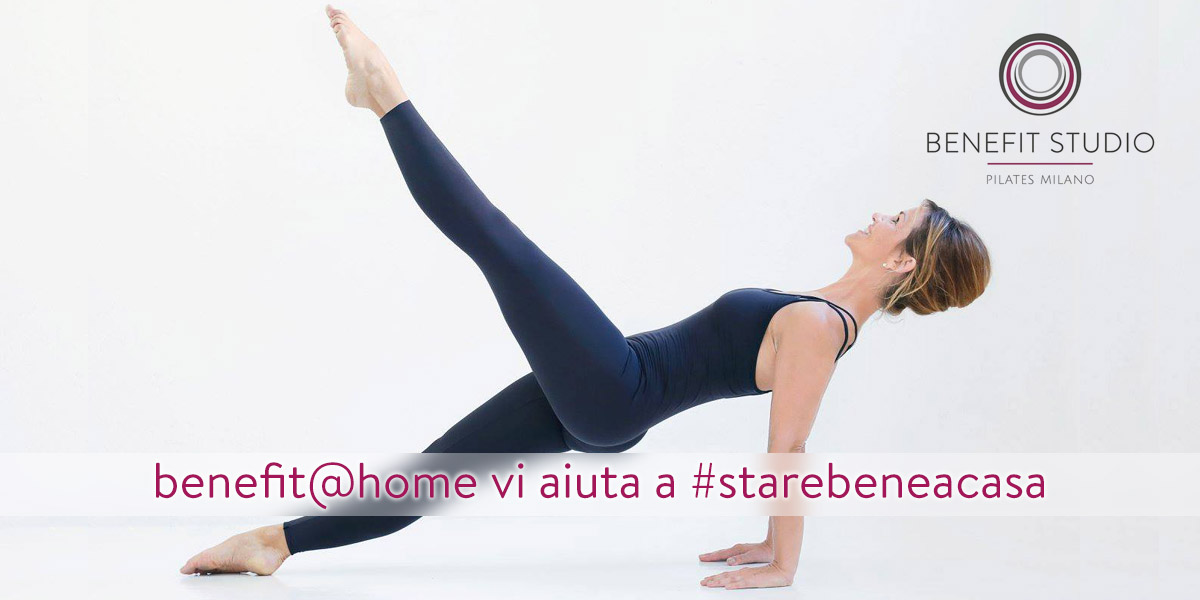 "benefit@home" è il nostro Studio Pilates virtuale.
Potete allenarvi con i nostri video comodamente a casa, quando e come volete voi. Proprio qui sotto trovate l'accesso diretto ai nostri video sul canale YouTube "benefit studio pilates milano". L'iscrizione è gratuita e se vi iscrivete sarete sempre automaticamente avvisati quando ci sono nuovi video.
"benefit@home" prevede poi lezioni on-line di Pilates Matwork, e in futuro anche di Total Barre e di Gyrokinesis.
Le lezioni on-line avvengono con l'applicazione ZOOM, facile da scaricare e da configurare (https://zoom.us).
Vi servirà un dispositivo (cellulare, tablet, computer, etc con webcam), un materassino o un tappeto, un asciugamano e un libro di almeno 500 pag. da usare come spessore. Ci sono lezioni a tema e lezioni con piccoli attrezzi.
Gli insegnanti di benefit@home sono Mareike, Chiara, Susanna, Gabriella e Susi.
Qui sotto trovate il nostro calendario in continuo aggiornamento:
LUNEDÌ – h.18 – PILATES SLOW
MARTEDÌ – h.8 – PILATES FLOW
MARTEDÌ – h.18:30 – TOTAL BARRE
MERCOLEDÌ – h.13 – PILATES FLOW
GIOVEDÌ – h.13 – GYROKINESIS
GIOVEDÌ – h.18:30 – PILATES FUN
VENERDÌ – h.19 – PILATES FUN
SABATO – h.11 – PILATES FLOW
SPECIAL SABATO – h.12 – PILATES CON FOAM ROLLER with Mareike
SPECIAL DOMENICA – h.11 – PILATES FUN with Mareike
Per prenotare la vostra lezione mandate una mail a info@benefit.studio e ricevete una risposta con il link per accedere.
La lezione di gruppo costa 12€ iva inclusa e 10 lezioni di gruppo costano 90€ iva inclusa.
La lezione individuale, prenotabile tutti i giorni e a qualsiasi ora, costa 30€ iva inclusa.
Le lezioni devono essere pagate in anticipo preferibilmente con un bonifico : IBAN IT59T0311101646000000000326, Intestato a Benefit Studio srls, UBI Banca oppure via PayPal qui a lato.
benefit@home presenta Mareike Stapel - Total Barre
benefit@home presenta Mareike Stapel - One hour with Mareike
benefit@home presenta Mareike Stapel - Esercizi base e intermedi del repertorio Matwork
benefit@home presenta Susanna Campari - Esercizi intermedi del repertorio Matwork
benefit@home presenta Gabriella Andriani - Esercizi base del repertorio Matwork
BASI Pilates Matwork - Bridging Intermediate - Back Support
Reformer - Intermediate - Short Box Series, Twist
Reformer - Fundamental - Short Box Series, Tilt
Reformer - Intermediate - Short Box Series, Round Around
Reformer - Intermediate - Hundred
Reformer - Reformer - Hundred Prep
Reformer - Advanced - Short Box Series, Climb the tree
Reformer - Intermediate - Short Box Series, Flatback
Benefit Studio Pilates Milano - Leg Pull Front - Matwork Avanzato BASI Pilates
Benefit Studio Pilates Milano - Roll Over - Matwork Intermediate
Benefit Studio Pilates Milano - Single Leg Stretch - Matwork Intermediate
Benefit Studio Pilates Milano - Matwork Advanced - Shoulder Bridge
BASI Pilates Matwork - Back Extension Intermediate - Swimming
Jackknife Matwork Avanzato BASI Pilates
Reformer - Intermediate - Short Box Series, Roundback
Advanced Teaser3 BASI Matwork
"Roll Up" BASI Pilates Fundamental Abdominal Work
Neckpull Advanced Matwork BASI Pilates
Twist Advanced Matwork BASI Pilates
Cadillac Intermediate Side Lift/Push Through Series BASI Pilates
Cadillac Advanced Hanging Back BASI Pilates
Cadillac Advanced Teaser 1 BASI Pilates
Cadillac Intermediate Prone2/Push Through Series BASI Pilates
Control Balance Matwork Avanzato BASI Pilates
Shoulder Bridge Prep Matwork Intermedio BASI Pilates
Side Kick Matwork Intermedio BASI Pilates
Shoulderbridge Matwork Avanzato BASI Pilates
Hamstringpull Matwork Intermedio BASI Pilates
Side Bent Matwork Avanzato BASI Pilates
Warmup Series BASI Blocksystem